Membership Information
Burlington Flats Fish & Game Club is for members only. Of course, we are always happy to welcome new members! To that end, we offer two basic types of annual memberships- individual ($30) and family ($50). This entitles members to the use of our facilities which are open 24 hours a day/365 days a year (except of course when reserved for club-sponsored events).
We ask all members to be familiar with our club by laws as well as club safety rules. We also encourage everyone to keep a close eye on our calendar and Facebook page to be aware of current events and avoid scheduling conflicts. We've provided links to useful information on the right side of this page.
How to Join/Renew
We offer two versions of our membership form. The first is in Adobe pdf format and can be viewed by anyone with Adobe Reader (a very common program that most people have). This version of the form can be filled-out electronically online and then printed, or, filled-out online, saved to your computer and then printed. The second variant is a standard Microsoft Word formatted document for folks who do not have Adobe Acrobat.
You can access the forms on the right side of this page. Hard copy forms are available in the clubhouse and at some of the businesses that support us. Once you've filled-out and printed the form, send it along with your payment (made out to "Burlington Flats Fish & Game Club") to our Club Secretary at the address below:

Theresa Mayne
766 Fish and Game Road
Burlington Flats, NY 13315
If you have any questions regarding memberships, payments, etc., please feel free to contact her via telephone at (607) 965-8096 or via email at dmayne@bffgc.com.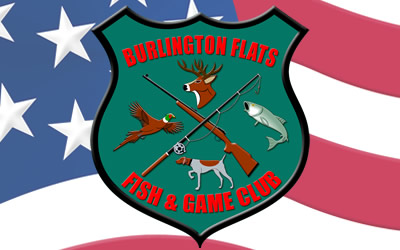 Membership Fees & Form(s)
Annual Memberships: Individual $30 | Family $50
Membership Form: PDF (electronic) | MS Word (print)
Important Membership Information